User:Tank
From N Gauge wiki
Tank is a nickname that I was given whilst in the 28th Purley Scouts. As a 10 year old I was regularly able to flatten the 15 and 16 year olds at certain games including British Bulldog. The name stuck with me in the game of rugby, in my motorcycle club, and with most of my friends.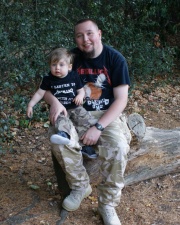 My interest in model trains began with my father who has had some fantastic OO gauge layouts whilst I was a young boy. I got into N Gauge when I was about 13 - so about 1995. My father bought me some second hand track which was battered and awful, but I thought it was amazing as it was all I knew! I later realised that the track was made up of four different manufacturers. I had a terrible Lima Diesel and some Graham Farish wagons to go with it. I frequently visited my local model shop called "The Loco Shop" in Kenley, Surrey, but he rarely had any N Gauge. After some months I went in the shop and I found a Peco catalogue, some modern Peco track, and a few second hand loco's. That is when the hobby truly began for me.
My interests
Rugby, DeWalt Tools, web design, British history, local history, military vehicles....
I like to listen to Rock music, mainly Heavy Metal, Black Metal, Thrash Metal, Punk, House, Techno, Happy Hardcore, Industrial.... My favourite bands include:- Metallica, Iron Maiden, Slayer, Megadeth, AC/DC, Slipknot, Queen, Judas Priest, Anti-Nowhere League, Dire Straits, Machine Head, Johnny Cash, Kate Bush, Kiss, Motorhead, Pantera, Steel Panther.......so many more!
--Tank (talk) 09:19, 8 June 2013 (PDT)